ROBERT J. JONES, URBANA-CHAMPAIGN CHANCELLOR
Image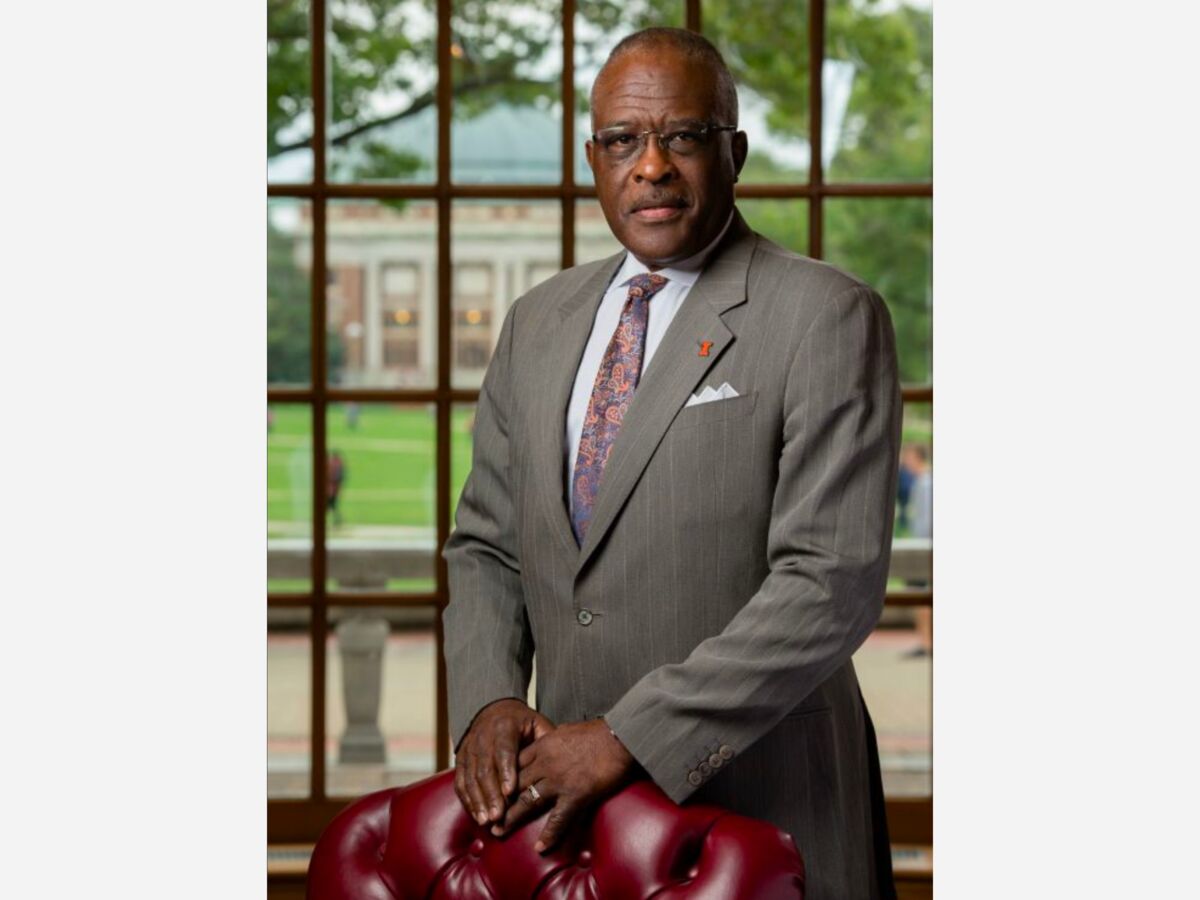 Oscar Smith, Publisher/ HIP  Champaign
Looking For The Unfolding Future Of HIP Champaign You've Come To The Right Place

Robert J. Jones became chancellor of the University of Illinois at Urbana-Champaign on September 26, 2016. He previously served as president of the University at Albany, State University of New York (SUNY) and is an experienced and accomplished scientist and research university leader.
A Georgia native, Jones, born in 1951, earned a bachelor's degree in agronomy from Fort Valley State College, a master's degree in crop physiology from the University of Georgia, and a doctorate in crop physiology from the University of Missouri, Columbia. He is a member of the American Academy of Arts and Sciences and is a fellow of the American Society of Agronomy and the Crop Science Society of America. He began his academic career as a faculty member at Minnesota in 1978 and became an internationally respected authority on plant physiology.
At the University of Illinois at Urbana-Champaign, Jones serves as chancellor of the state's flagship, land-grant university and vice president in the University of Illinois system, with universities in Chicago and Springfield. At Urbana, Jones' tenured faculty home is in the Department of Crop Sciences, College of Agricultural, Consumer and Environmental Sciences (ACES). Jones is the first African American scholar appointed as Urbana chancellor since the office was created in 1967.
At Illinois, he launched a year-long celebration of the university's Sesquicentennial that honored its history while establishing a new vision of the land-grant university for the 21st century. Under his leadership that future is taking shape quickly and visibly. The university has launched a $2.25 billion philanthropic campaign that has already reached 77% of its goal and includes two of the largest private gifts ever made to Illinois ($150 million to name the Gies College of Business and a $100 million gift to name the Grainger College of Engineering). He has implemented the vision of creating The Carle Illinois College of Medicine, the first engineering-based medical school in the world. The hiring of an inaugural vice chancellor for diversity, education and inclusion was a major step in fostering an even more open and collaborative community of students and faculty. And with the Illinois Commitment, a program that guarantees four years free tuition to state residents with family incomes less than $61,000, Jones has continued to deliver on the university's founding promise of making a world-class college education affordable and accessible.
Throughout his career, Jones has worked to make education available to promising young scholars around the world. From 1984-1994, he worked with Archbishop Desmond Tutu's South African Education Program (as an academic and scientific consultant) which educated more than 3,000 black South Africans in American Universities. Jones is also an accomplished vocalist and was a member of the Grammy award-winning Sounds of Blackness, a Minnesota-based choral ensemble for 30 years. He also serves on the Board of Directors of APLU, Campus Compact, the Farm Foundation, and the Donald Danforth Plant Science Center.
Jones is married to Dr. Lynn Hassan Jones, MD, a muscular skeletal diagnostic radiologist. Together they have five children and four grandchildren. 
A Great Conversation with Chancellor Robert J. Jones
DIVERSITY REVIEW DIVERSITY AND INCLUSION ON THE URBANA CAMPUS